OUR PRE-SCHOOL PLACES ARE FILLING UP FAST! PLEASE CONTACT THE SCHOOL OFFICE TO BOOK YOUR PLACE: 01772 335030
Clayton-Le-Woods CE Primary School Pre-School
PRE-SCHOOL PLACES AVAILABLE
Clayton-le-Woods Church of England Primary School has it's own Pre-School on site.
The provision is available for 3 and 4-year-olds with two sessions making up the day; starting at 8:50 until 11:50 and the afternoon starting at 12:15 until 3:15. Lunchtime provision is available with the option of a hot meal.
Pre- School is taught by a qualified teacher, supported by a full-time teaching assistant. The pre-school makes up part of our EYFS unit alongside our Reception class, and supports transition for children as they move from one class to another, The curriculum is planned for by the team and bespoke to the cohort each year. More information on this can be found by clicking on the link below:
More information can be found in our induction booklet which can be downloaded by clicking on the link below:
3 Year old children now qualify for 15 hours per week of free childcare. Children can also access 30 FREE hours if parents meet certain criteria. Visit www.childcarechoices.gov.uk to check if you are eligible.
To have a look round Pre School or apply for a place please contact Mrs Seers in the school office. 01772 335030.
You can follow our pre-school class on social media:
Instagram (claytonlewoodspreschool)
Facebook (Claytonlewoodspreschool)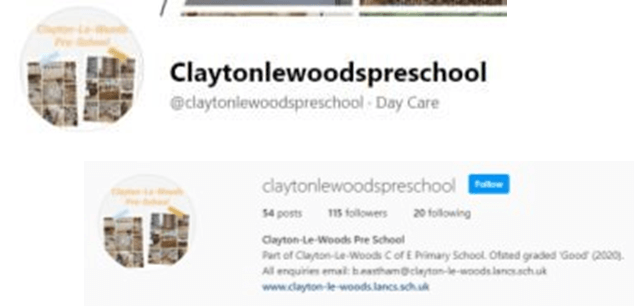 Did you know.....
Our pre-school teacher, Miss Eastham, is a published author! Her first book, A Day to Remember, was published in 2021 and raised money for the Royal British Legion. The book is still available to buy on Amazon UK.